I love hearing about people fighting human trafficking in creative ways, especially when I can share how you can join in.
Amber Hauser is one of those people. Her sister is going to South Africa to fight trafficking, and Amber is helping make it happen!
I'll let her tell you more about it . . .
Me and Dee-dee
My sister has had a heart for the people of Africa since spending time there in 2008/2009. This past year she felt another cause impressing upon her heart, the issue of human trafficking and slavery. As she served on different service projects through her church in the city of Atlanta, the burden became stronger. She met another young woman who had just returned from Africa serving with
Beautiful Dream Society
and was instantly drawn to the organization and mission. She began praying about the opportunity and eventually interviewed and was accepted to come and serve for a year in Lesotho with BDS. In a few weeks, she leaves behind all the comfort of the USA, her amazing church, her small group, her bible study, her job, her house, her car....her life....for a chance at helping hurting people. I am significantly impacted by her choice to follow God in this journey and have to say that I could not be a more proud big sister! I have a heart for these people as well, but I am not in a position in my life where I can forsake all and give up so much. I could write a
little
check to help, but I just had this feeling in my heart, that I needed to do more. That I had the ability to do more. I work for a talented
jewelry designer
part-time and started chatting with her about coming up with a necklace that I could sell to help her fund raise. She helped me find the beautiful fair trade recycled glass beads made by village women in Africa. She also donated supplies and helped me with design elements of Dee-dee's blog and the necklace website. Thank you,
Samantha
! I was hoping maybe I'd sell fifty, but was okay if it was less than that because it was more than my
little
check would be. But all my friends on
facebook
,
instagram
, and family and friends in person, blew me away. As of today,
almost 200 necklaces have sold
!! I'm overwhelmed and just humbled that God decided to use a few simple pretty necklaces to, not only help her fund-raise, but spread the word about human trafficking and Beautiful Dream Society! Because it is so much more than a $20 necklace:
Read some of the statistics below about what the
Beautiful Dream society
has already accomplished just since 2010 in Lesotho, South Africa.
Over 4,410 meals served in the Beautiful Dream Society Safe House for victims of human trafficking.
Over 1,470 beds filled in the safe house.
31 victims of human trafficking fed, clothed, empowered, and loved.
9 (Xiu Li, Nthaby, Lebo, Maselai, Elsie, Ethel, Adanech, Mamasi, Khethang) survivors of human trafficking and 6 children assisted in our transition program with occupational and educational transition into society (Distance learning, sewing school, sewing instructor, driving school, farming job, baking business).
38 (2011-2012) awareness events presented to young people throughout the country of Lesotho to warn them of the dangers of human trafficking.

First ever conviction of a human trafficking perpetrator in the country of Lesotho

.
Scholarships for young women and vulnerable orphans by providing their tuition and funding their school expenses. Without this assistance, these young people would not be able to attend school.
Implemented life skills, creative arts, computer skills, English lessons, art therapy, group therapy, self-esteem & empowerment program into our Crisis Care Program.
Clients placed in internships and employment.
Implementation of skills and job training programs and income generating activities.
Over twenty client appearances in court.
BDS (Beautiful Dream Society) signed a Memorandum of Understanding with the Ministry of Social Development.
BDS maintains a strong partnership with the U.S Embassy.
Developed and continued partnerships with several government ministries and non-governmental organization's.
BDS is a member and active participant of the Multi-Sectoral Committee. This committee is made up of government ministries and NGO's in order to combat human trafficking in Lesotho. During these meetings we have assisted in drafting regulations for the Anti-Trafficking in Person's Act of 2011, National Action Plan, the referral mechanisms and provided information to the U.S. State Department for the yearly Trafficking in Persons Report.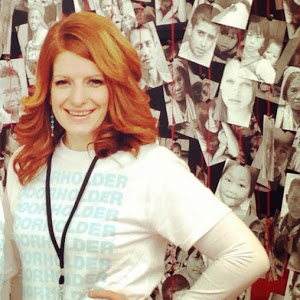 I don't know about you, but that gives me chill bumps. THAT is what this is all about! Every time you share about your necklace and share about this amazing organization, you can spread hope for some of the most helpless souls on our earth. You can purchase your necklace or t-shirt
HERE
! You should also know that I am not making ANY money off of these! I'm giving 100% of the profit straight to her fund-raising campaign!